Wall Unit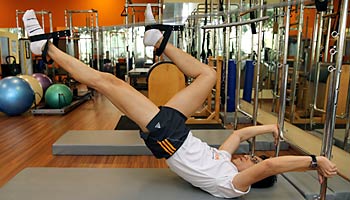 Exercises on the Wall Unit are performed through direct spring tension via a hand/feet strap or a foot bar. These "open" springs give immediate and visual kinesthetic feedback. With the assistance/resistance from the springs, you will develop strength and tone faster as compared to a pure mat work repertoire. Also, the focus of the Wall Unit is on stretching and lengthening the body.
Reformer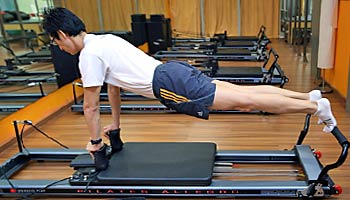 The Reformer offers all the benefits of Pilates including overall strength, flexibility, co-ordination, and balance. These benefits are in turn transferred to daily life like better posture, graceful, efficient movement, and relief from pain associated with physical imbalances. The Reformer can be used by everyone, of any shape and at any age.
Ladder Barrel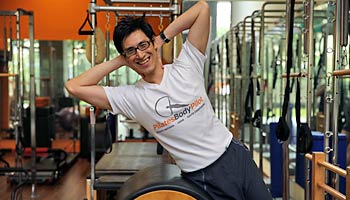 The Ladder Barrel helps isolate deep postural muscles and challenges the body on all planes of movement. For example, one exercise has your side of the hip on the barrel with your feet at the bottom of the ladder, then you side flex to stretch out the tight lateral muscles and activate the core abdominals to return to the starting position in a controlled manner.
Testimonials
"Great classes!"
Tan A.K.
Hong Kong
"The practitioners at Pilates Body Pilot understand that each individual client's body has their own specific needs and customizes the workout to address your needs. I believe what differentiates them from other studios is their attention to detail instead of everyone performing a generic exercise. I felt a definitely improvement in overall wellbeing after every session!"
Hui Ting
Singapore
"The studio is conveniently located near the Buona Vista MRT. It is spacious and well-equipped. The classes are kept small ranging from 5 to 8 persons per class. The practitioner,Chris pays close attention to each individual, tailoring the exercise to the needs of each person at all levels. I have been attending classes for more than 2 years, and my core and flexibility have improved tremendously. I found the class tough at times but I felt good after the class. Chris is able to motivate the students to stretch more and push harder each time."
May Ann, Phd
"Hi Chris, Thanks for the past year and half of group personalised Pilates classes that helped me improve my core strength and muscle toning. Your customized approach to tailor specific moves to each student's needs in a group class is great and my lower back tension disappears after stretch and body feels great after every session! Thank you!"
Wendy
Singapore
"The Pilates class by Chris is nicely paced, challenging, and fun. I'm sad I needed to stop it as I had to leave the country. I miss Christopher's way of teaching as it is very personalised and effective.
His studio has the best equipment of all the studios I have been to so far (even better than my current studio in Tokyo). My favourite class was the reformer, but I had fun with the other classes as well. The GRAVITY equipment provides a variety of exercises and offers something unique as it allows me to train my weaker muscles more efficiently."
Ms Kanako Honma
Japan
"Before joining Pilates Body Pilot, I had attended Pilates lessons at other studios, for more than a year. While I thought I came to Chris with a fair understanding of Pilates, I had a rude realization that my core is not as strong and my spine is much stiffer than expected. To top it up, my breathing was nothing close to the proper breathing technique. After attending Gravity Pilates lessons with Chris, I have a much clearer understanding of the correct breathing techniques, proper core muscle engagement for an effective workout. Chris was able to breakdown the techniques and give precise step by step instruction, including which muscle to engage, so as to achieve the right effect through proper form and execution. While my previous instructors did give me instructions, they were not as precise. I ended up mimicking the movement without true core engagement, hence compromising the effectiveness of the exercise. I had benefited from Chris's passion on alignment and proper execution, his sense of humor lightens up the class, making it enjoyable and interactive. So, if you are looking for fun and effective Pilates, join me, at Pilates Body Pilot."
Nikole Kan
"I love the Wall Unit Class at Pilates Body Pilot and find it so beneficial for my scoliosis. It has made such a difference to my day to day comfort level. The small/precise movements in your Wall Unit Class make all the difference. Its not about how fast we do each move but how to do it correctly."
Ingrid Ridge
Australia
"I wish I had started pilates years ago! I love Pilates Body Pilot and I have seen and feel such a difference. It is especially helping with my spine and posture, as well as flexibility. My best class is the Wall Unit, such a great workout. I also appreciate that the classes are kept small so that you get a lot of individual attention for your specific needs. Chris is an excellent teacher."
Kerry
South Africa
"I have been coming to Pilates Body Pilot for the past 8 years and have been seeing a lot of improvement with my posture. I especially like the small classes and the way Chris is able to customise the exercise we do in class to each individual's needs. This would not be possible at a larger and more commercial Pilates studio. Having tried Yoga and various Aerobic classes previously, Pilates is the best way to exercise for me, without putting too much strain on my muscles."
Stephanie Schueller
Austria
"Chris is an outstanding Pilates teacher. I have not met anyone in his area of expertise who is so dedicated to helping his students' work on their posture and their individual challenges. He has a keen ability to observe his students, nothing escapes him and he challenges me to exercise hard. I have been attending Reformer and private classes for the past 5 years. My back pain and problems have not been bothering me since. Chris is very focused on adding value to his students' well-being and at the same time he has a great sense of humour. I thoroughly enjoy the classes."
Barbara Goetz
Switzerland
"I moved to Singapore about a year ago. One of the first few things I searched for was a Pilates Reformer studio. Convenience in terms of time and location are very important to me. I tried a couple of them near Holland Village/Buona Vista. Then I found Chris / Pilates Body Pilot about 6 months ago. I like the set up so far. Scheduling of classes is done online and very easy. The class size is small, small enough so Chris could pay close attention to his students. He ensures that we get the most out of each pose. Yep that sometime means pain at the right places. Thank you Chris 🙂 "
Sara
Thailand
"I joined a Pilates studio here in Cincinnati and did a private lesson on the reformer as a pre requisite. The teacher said that who ever taught me taught me really well because my form is great. They do reformer differently from you but I am getting used to it. Thanks for being a good teacher."
Mariana
Brazil